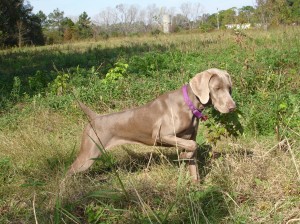 Outdoorsman Phillip Elden encourages all animal lovers to consider adopting their next pet, citing the life-changing experience that occurred when he and his wife found their beloved Weimaraner Jeff.
Interviews and News: Why did you choose a Weimaraner as your family dog?
Phillip Elden: Weimaraners are, in my humble opinion, the best breed of dogs. These loving animals are full of energy and appreciate the outdoors just as much as our family does.
Interviews and News: Where did you find Jeff?
Phillip Elden: The city of Eugene, Oregon has a volunteer Weimaraner rescue. At the time, adopting a dog was an easy decision. Jeff fits well with our active lifestyle, and specifically our desire to have a friendly and fun-loving hiking companion. When we adopted Jeff, he was merely a pup. Sadly, his previous owner had left him chained to a tree and he'd lost a lot of weight.
 
Interviews and News: How long has Jeff been part of your family?
Phillip Elden: Jeff has served as a vital member of our family for about five years. Right before we adopted Jeff, I'd just completed an energizing climb up Mount Jefferson, which influenced his name of course.
Interviews and News: Does Jeff live up to his billing and love the mountains?
Phillip Elden: It only makes sense that Jeff would fall head over paws in love with the mountains. From all appearances, his favorite part of our hiking expeditions is when we travel up to the Columbia Gorge and embark upon the Eagle Creek trail. There, the wet moss acts as a tasty dessert and a cool place to lie down when he gets tuckered out.
 
Interviews and News: What other breeds are Weimaraner dogs related to?
Phillip Elden: First defined as a Weimer Pointer, the Weimaraner comes from selective German breeding. The Weimaraner is said to be a direct descendant of the Bloodhounds originally used to hunt wolves, deer and bear. Throughout the years, the Weimaraner has become known as a trusted and highly reliable companion for hunting.
 
Phillip Elden is an active participant in the Mazamas, an organization dedicated to mountain climbing and environmental cleanup.