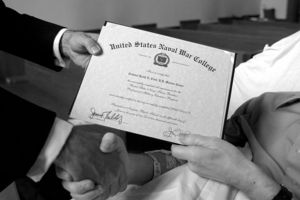 Increasingly popular with today's science graduates, a hybrid business – science program is attracting a broad range of students who are expanding their knowledge base. The University College at University of Maryland has become a pioneer in this format that allows students to use their expertise and data analysis beyond the confines of the laboratory.
Since 2010, student enrollment in professional science master's programs has jumped over 23 percent. According to the Council of Graduate Schools, about 6,000 students were pursuing these degrees during the fall semester of 2013. Most students seeking a professional science master's degree enroll in information and computer sciences. The other popular areas are natural resources, environmental sciences, biotechnology, statistics and mathematics.
The degree became more prevalent in the late 1990s due to the support of major organizations such as the National Professional Science Master's Association (NPSMA) and the Alfred P. Sloan Foundation. The latter institution was created to offer support for program administrators and faculty in their quest for higher learning.
Today, the Council of Graduate Schools assimilates and analyzes program data while the Keck Graduate Institute manages and oversees all professional science master's programs in the United States.
More than 140 educational institutions are currently offering this interdisciplinary degree, including university systems in New York, California and Arizona. At the University of Maryland, students can select a particular discipline based on their interests and skill sets. Since 2010, the program has graduated 525 students.
The master's program requires a student to complete an internship or project in a business-related endeavor. In order to determine which employers would be eager to host these projects, the program contacted leading biotech incubators in the area. These biotech incubators offer innovative and effective strategies that could bode well for the future of this industry.