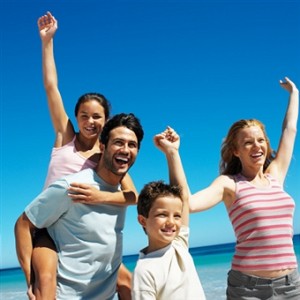 Everyone needs a break from the daily routine, but now how does a family decide on what kind of vacation will make everyone happy? Relaxing at the pool or beach? Discovering theme parks? Hiking in the mountains, or something else? That decision is often the hardest. No two people will probably agree on what the top U.S. family vacation destinations are, but here are some picks likely to be on most family's lists.
Orlando, Florida
From the rush of a roller coaster to floating on a lazy river, Orlando offers an unbeatable vacation experience for the entire family. Whether you crave Walt Disney World, Sea World or Universal Studios, or just a little poolside relaxation in between, one thing is certain—age doesn't matter when it comes to vacationing in Orlando. Fall is a great time to visit Orlando, when cooler temperatures accompany shorter lines, and a variety of special events take over Orlando's theme parks.
Myrtle Beach, South Carolina
South Carolina offers families a wide variety of alluring options. The state is one of the East Coast's most popular resort areas. It features more than 60 miles of wide, sandy beaches, called the Grand Strand, along the Atlantic Ocean. Myrtle Beach always has something new, including the 187-foot SkyWheel, the newly renovated Myrtle Beach Boardwalk and Promenade, the WonderWorks science attraction, and many live theaters.
Gatlinburg, Tennessee
Recently named one of the Prettiest Towns in America by Forbes magazine, this charming city is the epicenter of the Great Smoky Mountains and straddles the border between Tennessee and North Carolina. Gatlinburg offers a wide range of cabin rentals to give the whole family a bit more space than a hotel would. Be sure to visit Great Smoky Mountains National Park and Dollywood Theme Park.
Seattle, Washington
Seattle is a beautiful area with lush vegetation, towering evergreens, fantastic views, and a favorite family vacation spot for many. Aside from the great scenery, Seattle has many other attractions. Towering 600 feet is Seattle's Space Needle, an amazing structure built in 1962 for the World Fair. The Seattle Aquarium can be enjoyed by young and old alike, and while you are there, make sure to take a short excursion on one of Washington State's ferries.