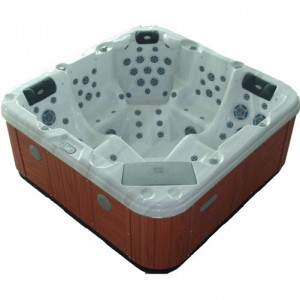 Integrity Spas, based in the Kansas City suburb of Leawood, Kan., is always on the cutting edge of spa technology. Through the years, the staff of trained professionals has studied all the popular methods to keep spas in tip-top shape. Integrity Spas urges clients to take advantage of the ozonator, a built-in feature to all of its hot tubs. The ozonator serves as a vital tool in spa maintenance by improving the overall quality of the water.
Q: What is an ozonator?
Integrity Spas: An ozonator is an apparatus that produces ozone gas that gets injected into the spa water so that it stays clearer and cleaner. Ozone naturally eliminates bacteria in the tub. It's also pH neutral. Ozone can reduce the amount of harmful chemicals in a spa by nearly 90 percent. An ozonator is the most effective and convenient method in destroying bacteria, germs and viruses.
Q: Is this a standard feature on spas?
Integrity Spas: Ozonators are actually upgrades on a majority of spas in the marketplace. As a benefit to its clients, Integrity Spas offers the ozonator as a standard feature on all its hot tubs. Most ozonators last up to three years before showing the results of wear and tear, and replacements are available through the website. Spa owners can take care of the replacement by themselves, but a skilled technician can handle it as well.
Q: How does an ozonator inject the ozone into the water?
Integrity Spas: Typically, an ozone jet will inject ozone into the tub. However, Integrity Spas has developed a special ozone mixing chamber. Through this chamber, the ozone is blended into the water during the filtering process. This dramatically increases ozone efficiency and provides clients with the most comfortable spa experience.
Q: Does using an ozonator replace the need for chemicals?
Integrity Spas: An ozonator is not a replacement for chemicals; however, an ozonator will significantly decrease the number of chemicals needed. Clients can choose from a few different options, but their most important decision is which primary sanitizer to use: chlorine, bromine or Nature2 materials. All three of these options have proven highly effective. However, most clients select bromine or Nature2. The odor of chlorine is often unattractive to clients. Integrity Spas generally recommends the implementation of Nature2, which is currently the most chemical-free spa cleaning system on the market.