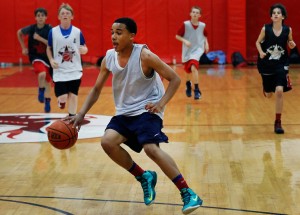 Q: At Rising Stars, what is the overall mission?
Paul Savramis: The development of a strong education and correct values in children is especially critical during their formative years, so the team at Rising Stars ensures that they are learning the necessary life skills. These life skills are incorporated in our drills and are a part of our practices and games
Q: Why is it so critical to educate kids early?
Paul Savramis: Many studies have shown that most learning occurs during the early stage of life.
Q: What's one major focus area of Rising Stars?
Paul Savramis: Many programs have forgotten how important play can be to a child's development. At Rising Stars, the emphasis is on being a kid and having fun for our younger teams.
Q: How does play help children?
Paul Savramis: Play will maximize attention spans, cultivate creativity, and help children learn important reading and math skills. In addition, the basis of decision-making and knowing what is right or wrong develops through play and during children's games.
Q: So play is not just a form of physical activity?
Paul Savramis: Not at all. Years of research show that play is crucially important to physical, social, intellectual and emotional development.
Q: Are kids unhealthier these days?
Paul Savramis: Generally, and unfortunately, yes. The number of children who suffer from hypertension and the increased presence of childhood obesity is a national crisis.
We now have clinical names for disruptive behavior and lack of attention whereas these areas were not as prevalent before the "video game" generations.
Q: Are schools working to combat this issue?
Paul Savramis: Just the opposite. Playtime shrunk from 40 percent in 1981 to 25 percent in 1997.
Q: That's quite a decrease.
Paul Savramis: Very true, and it's stayed around that rate ever since.
Q: What's the fallout from this shift in the average school curriculum?
Paul Savramis: The number of preschool children on medication continues to rise, and preschool expulsion rates are now a national issue.
Q: Where does Rising Stars see the most improvement in student success?
Paul Savramis: Rising Stars teams keep more than 80 percent of children enrolled in third or fourth grade active throughout high school.
Q: What are the long-term results?
Paul Savramis: During the past four years, Rising Stars teams have seen 100 percent of its high school seniors matriculate issue-free and trouble-free from HS into college.
Q: Perfect.
Paul Savramis: It's a statistic that Rising Stars is very proud of.
Q: How is Rising Stars qualified to carry out this mission?
Paul Savramis: All Rising Stars senior coaches are certified physical education teachers so that they can provide the maximum benefit to participants.
Q: What's the No. 1 attribute of teachers at Rising Stars?
Paul Savramis: If the teacher does not love to teach, then the player will most likely hate to learn. A true passion for education is necessary.
Q: How does play help young people in school?
Paul Savramis: Play and playing on teams are also necessary ingredients for learning the social skills that serve as the foundation for a child's success. Throw into the mix the power of teams in the development of character and leadership and you have the makings of a more complete adult.