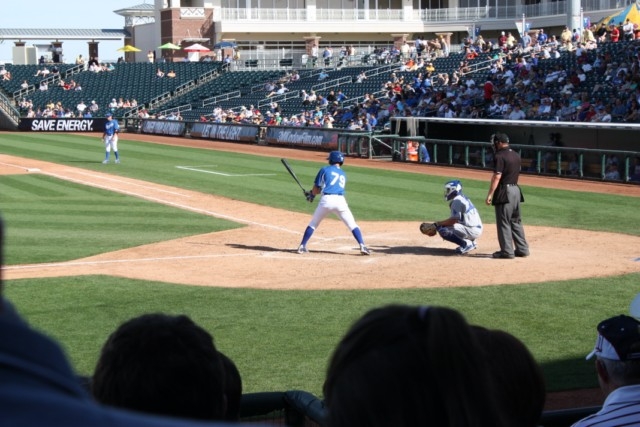 When Gary McClure retired as head coach in 2015, the APSU Governors baseball team lost a living legend. In the following interview, Gary McClure discusses APSU's history of successes and how the team's reputation has served as the foundation of its achievements.
Interviews and News: Good afternoon, we're interested in talking about your career today. It isn't often we get the chance to chat with someone so decorated in college sports.
Gary McClure: Well, thank you for that.
Interviews and News: Before you accepted the head coaching job at APSU, the program hadn't been to strong consistently or in quite some time, had  it?
Gary McClure: Historically, no, but former head coach Tom Wonderling had laid a great foundation and won a championship in 1971, and coach Joe Ellenberg had a good run in the late 70's and early 80's. The program had certainly had some good times and been competitive for the most part, but only had the one championship in 1971 when I took over.
Interviews and News:  How so?
Gary McClure: Wonderling was instrumental in setting the tone and proving that Austin Peay could win a championship and play with anyone. He had very good players and competitors. I have been fortunate enough to meet most of those guys over the years.
Interviews and News: Your time with the school has become known as the "Gary McClure Era." You coached for 27 seasons, right?
Gary McClure: Yes.
Interviews and News: Did you ever consider leaving?
Gary McClure: Once or twice, but the Govs were my heart but I either it didn't work out or I thought it wasn't best for me or my family at the time. Truthfully, Austin Peay was my extended family.
Interviews and News: The Governors became known for unique game plays…
Gary McClure: Yes, we didn't have to rely on power or the 3 run homer for the most part. We recruited a lot of speed and constantly put pressure on the defense with our style of play, especially for the first 20 years I coached.
Interviews and News: How was the speed beneficial?
Gary McClure: Well we stole a lot of bases and really forced the issue by trying to break down the defense by putting pressure on them. Up until close to my 24th or 25th year we stole between 100 and 150 bases a year on a normal basis, and after that we were not far from that.
Interviews and News: You had a few notable hitters in your day though. Like Nate Manning, for instance…
Gary McClure: I won't deny that. And you obviously have to hit. There's the old adage you can steal first and you have to drive runs in as well. Manning was a star for sure. He was no doubt part of the reason we won our first OVC tourney, back in 1996 and qualified for the school's first NCAA Regional. He still holds the single season home run record with 19 as well as the RBI and hits record. He is also in the APSU Athletic Hall of Fame.
Interviews and News: That was a turning point for the Governors?
Gary McClure: Yes, we had a lot of success before that with winning the conference in 1994 and finishing second or in the top 3 several times, but you could say it opened the floodgates for the team's future success. We went on to return to the NCAA regionals five times, even facing off against Vanderbilt in 2007.
Interviews and News: As I recall, that was a big game for Shawn Kelley!
Gary McClure: Shawn pitched his heart out. It was a battle between he and the Commodores' David Price. Both went on to successful MLB careers; Kelley who is now with the Nationals and Price with the Red Sox.
Interviews and News: It must be amazing looking back on those games now, knowing you were coaching a future MLB players?
Gary McClure: It never gets old…watching your guys grow and move on to professional careers along with the success everyone has on and off the field.
Interviews and News: APSU has a reputation for turning out Big Leaguers…
Gary McClure: Well, 56 of my former players have signed pro contracts; 5 of those with the MLB – Shawn Kelley, AJ Ellis, Matt Reynolds, George Sherrill, and Cat Walker.
Interviews and News: That sounds like a pretty impressive record.
Gary McClure: We had a great program and we gained a reputation for breeding winners and great players who competed at an extremely high level daily.
Interviews and News: That's evident. And on that note, we'll close. Do you have anything you'd like to add?
Gary McClure: Just that I continue to watch the Govs and wish them the best in the future.
Interviews and News: Well said, Gary McClure, thank you.