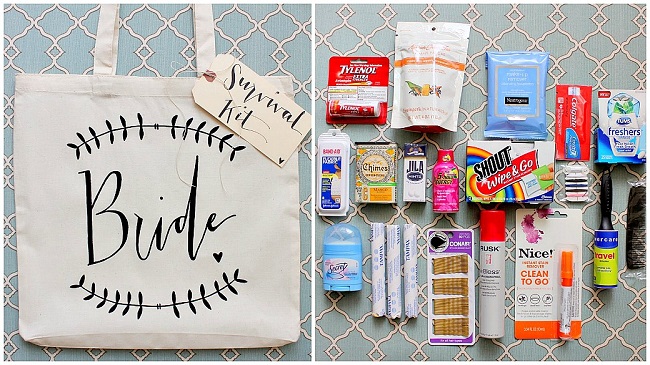 If you think your wedding day is going to be perfect, you're right. But, you're also wrong. According to the bridal registry experts at Kitchen Charm, most brides experience at least a mini emergency leading up to their nuptials. In the following interview, Kitchen Charm representatives spill the beans on the best "just in case" items to keep close at hand on your wedding day.
Q: Thank you for joining us, we understand that you are a Canadian Bridal Registry member?
Kitchen Charm: That's correct.
Q: With wedding season upon us, we were hoping you could offer us some advice on how to handle unexpected "surprises" on the big day.
Kitchen Charm: Absolutely. There are a few things that each bride should keep nearby in case of an emergency.
Q: As an example…?
Kitchen Charm: Some of the most common "emergencies" on your wedding day include faulty makeup, snagged stockings, and flyaway hairs. We would first recommend having an ample supply of Q-tips and makeup remover. Mistakes happen.
Q: What about for hair?
Kitchen Charm: Bobby pins! Bobby pins! Bobby pins! And, of course, hairspray and a comb.
Q: How common are wardrobe malfunctions?
Kitchen Charm: After makeup, popped buttons and missing sequins are about the most common wedding day issues. When you have to make it work anyway, you'll want to have a miniature sewing kit in your bag.
Q: How can a bride avoid embarrassing perspiration?
Kitchen Charm: Surprisingly, baby powder applied in all the cracks and crevices – including under breasts and around the bodice area of the dress – will keep sweat at bay.
Q: What types of snacks are good to have around?
Kitchen Charm: Pretty much anything that provides sustainable energy, such as a granola bar or dry roasted almonds. Avoid potato chips and anything chocolate at all costs if you want to keep your dress in pristine condition.
Q: Speaking of the dress, how do you suggest removing small stains?
Kitchen Charm: Your first line of defense is a stain remover pen. However, some stains are stubborn and may be covered up with standard school chalk.
Q: We have heard that duct tape is handy on your wedding day… Can you elaborate?
Kitchen Charm: Duct tape comes in handy for stockings that won't stay put and hems that won't remain folded. Get a couple different colors of white to make sure you can match your dress.
Q: So you mentioned having snacks, is it a good idea for the bride to brush her teeth while wearing her wedding dress?
Kitchen Charm: If you can be really careful, then go for it. However, chances are, you'll be in a rush and may want to stick with a clear mouthwash or an individual toothbrush that doesn't cause dripping bubbles.
Q: Is it possible to keep from crying during the ceremony?
Kitchen Charm: Some people have nerves of steel and can get to the whole thing with dry eyes. The rest of us should stick with waterproof mascara and keep tissues on hand to dab away the tears.
Q: What is the one thing most brides need but don't have on their wedding day?
Kitchen Charm: Surprisingly enough, earring backs. They are tiny and get lost easily.
Q: Do you have any other advice for our readers looking to take the plunge into marital bliss this summer?
Kitchen Charm: When packing your bag, don't forget super glue, straws, and basic hygiene products.
Q: Why the straws?
Kitchen Charm: No bride wants to smear her lipstick on a glass when she gets thirsty!
Q: That's all very practical advice and we would like to thank you for your time today.
Kitchen Charm: It's our pleasure.