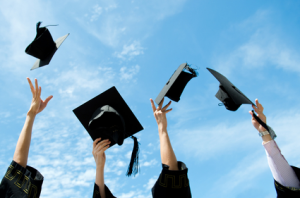 Higher education has now become a commercial transaction between student and school. Universities and colleges have become increasingly competitive both  in athletics and in research.
The rapid emergence of for-profit colleges over the last decade is perhaps the most significant trend in education. Meanwhile, a number of low-income students are discovering that the return on their expensive college investment may not be quite what they were hoping. Evaluations of alumni earnings by major and college have become a significant part of American culture.
Graduate students are creating unions at a number of colleges and universities from coast to coast. The increasing reliance on college ratings compares graduates' salaries and incomes, with publications now offering data and information about the value and price of advanced degrees.
When politicians discuss the topic of higher education, it is often introduced along with the concept of a more demanding job market and the economic competition between the U.S. and other nations. Careers demand more education in the modern age, and the rising cost of education has translated into adjustments in financial aid, dorms and quality of food.
About half a century ago, student dress and behavior were regulated more strictly, and students were less free and more privileged when given the opportunity to develop their own academic journeys. Institutions of higher learning enjoyed the idea of producing well-rounded citizens who can contribute to society for years to come, say the study authors.
As society continues to view college education as a viable stepping stone to wealth and property, receiving a degree becomes increasingly important. Careers are requiring more education from candidates than before, and the rising costs and fees associated with a college diploma have given pause to many families across the United States.