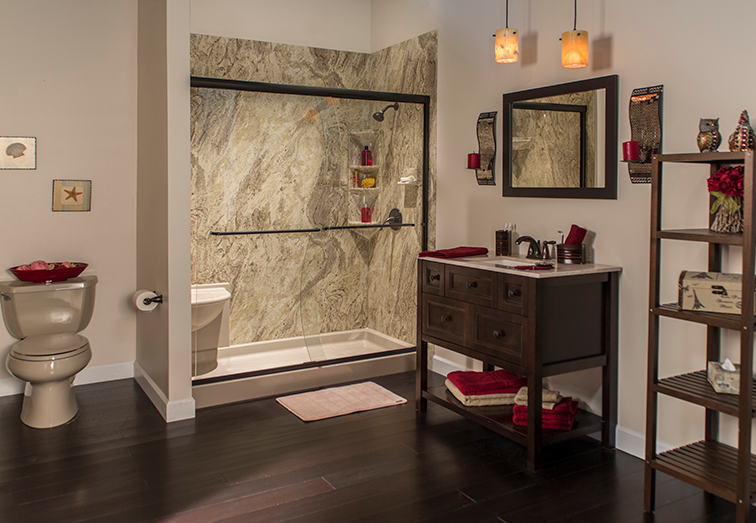 With over 100 exclusive dealers in North America, Bath Planet is one of the most trusted names in home improvement. Today, we speak with certified Bath Planet installers to find out what has propelled the company to such success.
Q: Thank you for letting us pull you away from work today. We know you're busy.
Bath Planet: It's not a problem, we are glad to be here.
Q: We understand that Bath Planet has grown tremendously since it was founded?
Bath Planet: We have, that's for sure. We started as a small branch of our parent company, BCI Acrylic, Inc. Today, we have over 100 dealers in both the US and Canada.
Q: What do you attribute to such expansion?
Bath Planet: We honestly have superior products. Our bath and shower systems are molded out of ¼ inch thick acrylic. BCI produces most of our products right here in Illinois, so we know the standards they are held to.
Q. Which is why Bath Planet has one of the industry's best warranties?
Bath Planet: That's right! We offer a Limited Lifetime Warranty – which can even be transferred within the first two years. Bath Planet branded products have been tested at the Good Housekeeping Institute and have earned the Good Housekeeping Seal.  We believe in going the extra mile, which is why we submitted all of our Bath Planet products to Good Housekeeping so now homeowners have the peace of mind that our products will work and last.
Q: What does that mean for your customers?
Bath Planet: Essentially, it means that our products have been tested by an independent party and deemed worthy of their backing. The Good Housekeeping Seal indicates that a product is covered for two years by Good Housekeeping, if something happens to go wrong.
Q: Bath Planet is known for its mission to "shatter the stereotype that remodeling has to be a negative experience." Can you tell us what makes your company different from other contract firms?
Bath Planet: Well, first of all, we actually put our customers first! We pledge respect at every phase of the project and make communication our #1 priority.
Q: A lack of information can be extremely frustrating…
Bath Planet: It is! We want our customers to know that we respect them, their homes, money, and time.
Q: How long does the installation process take?
Bath Planet: Most jobs can be completed in about a day, even with specialty products like our walk-in tubs and shower conversions.
Q: Really? That's convenient.
Bath Planet: Well, it should be. Remodeling should be a fun and exciting time. We'll even come to your home to provide a custom quote.
Q: Speaking of money… How much will this cost me?
Bath Planet: That all depends on the room configuration, options chosen, colors, patterns, and which system is being installed. It's usually around half the cost of traditional remodeling though.
Q: So, quick and courteous service, beautiful bathrooms, and installation in about a day? That's something worth checking out!
Bath Planet: We think so! Please, feel free to visit our website (BathPlanet.com). We have a gallery showcasing our products as well as an online Design Studio.
Q: Unfortunately it looks like we are out of time today. Thank you again!
Bath Planet: Anytime!